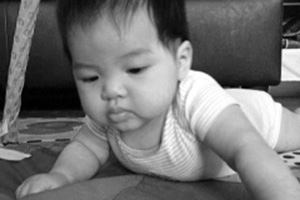 Information on Children Ages
Birth to 8 months
SOCIAL-EMOTIONAL DEVELOPMENT
BIRTH TO 8 MONTHS
How are children learning about feelings and relationships?
Overview
How children think about and manage
themselves,
their feelings and behavior, and
their relationships
is what we call social-emotional development.
The development of these skills is as important in children's success in school as are other skills, such as language and literacy and mathematics.
During the first five years of age, children are learning how to
manage their own behavior,
recognize, express and manage their feelings,
notice and respond in caring ways to the feelings of others,
interact with friends,
be a member of a group, and
develop close relationships with adults, including parents, other family members, and teachers.
Children learn these social-emotional skills in close relationships with adults through back-and-forth communication, shared experiences and nurturing guidance. Play is also central to helping children learn these skills. Through play, children practice their social skills, explore feelings, try on new behaviors and get feedback from others. Play allows children to learn more about themselves and others and develop their communication and interaction skills.
Social-Emotional Development
Introduction
What is my child learning about herself and her feelings?
Learning about who you are as a person begins at birth. Babies are born with many abilities—to see, hear, eat, and vocalize (cry and make sounds)—but everything is new to them.
Babies typically come into the world ready to relate to people, to make eye contact and, soon, to smile.
They are very interested in the people around them and they learn about themselves through interacting with their people (those who care for them). For example, a child cries because something inside of her doesn't feel right. When her parent gives her milk, she feels better. Soon she learns that the feeling inside means she is "hungry," and that it will go away when milk comes.
Your child is also learning about how her people feel about her. When her people smile, talk, listen, respond to her cries and nurture her, she learns that she is lovable and important.
What is he learning about other people and relationships?
Your child is also learning about the people he lives with. He recognizes his familiar people and will smile at them and look at them longer than he does with strangers.
He will choose to be with familiar people and will seek them out in new or uncertain situations.
He carefully watches the expressions of his people for messages—are they smiling? are they tense? are they sad?—and he uses these cues to help understand his world. If his parent is holding him and a new person walks up to say "hi," he will often look at his parent's face to check his response before interacting with the new person.
He is beginning to predict how certain interactions with people might go. When he gives you a big grin, he waits expectantly for you to smile back. When he reaches up to you, he now anticipates that you will pick him up.
He doesn't yet know that other people have feelings that are different from his own, but he is beginning to express his feelings more clearly and is very interested in watching other people's expressions.
Tips to support your children learning about themselves as people, learning about their feelings and learning about other people
Learning about self as a person
Smile at your baby and talk to her regularly. Listen and respond to her cooing and other sounds.

Loving interactions help your baby feel good about herself and know that she is loved and respected.

Respond promptly when your child is hungry, sleepy or needs a diaper change or your attention.

Prompt responses will help your baby feel safe, loved and trusting in the world.

Talk to your child. In this way you begin to give her words for what she is doing.

"I hear you are crying. I think you are hungry. I'll get ready so we can feed you."
"You've been playing a long time. You are rubbing your eyes. I think you are getting tired. Let's find your favorite blanket, and I'll put you down for your nap."
"I see you trying to roll over, and you keep getting stuck on that arm, but you keep working at it. I know you are going to figure it out."

Play games with your baby.

Simple games like peek-a-boo are delightful for your baby and help remind him that you go away, but you always come back.
Naming the parts of his body can also be a playful activity: "Where is your nose?" And then point at or touch it as you say "nose." "Where is your ear?" And then point at or touch it as you say "ear."

Engage your baby playfully in routines like diapering and dressing.

"Can you hold your dry diaper while I take your wet one off?" "We are going to put your pants on . . . where are your feet? Oh, there they are! They were hiding in your pants."
All of these games help your child learn about her body and how it works, and they also help your child to feel good about herself!
Learning about own feelings
Your child will communicate to you through crying, especially in the first months of life. Respond in nurturing, loving ways when your child cries or shows distress.

It is important to try to figure how and what your child is asking for when he cries. But even if you have tried everything and he is still crying, he will appreciate you holding him lovingly and telling him that you are still there for him. Your calm presence will help him feel better even if he doesn't stop crying.

Talk to your child. In this way you begin to give him words for what he is feeling. Babies are sensitive to yelling and other expressions of anger and may be frightened or upset to see it, even if you are not angry at them.

"I hear you are crying. Are you feeling sad that papa went outside?"
"You are waving your arms in the air. You look so excited to see papa!"
Be aware of the way you are expressing your feelings in front of your child. she is sensitive to feelings and is learning how to express her own by watching you.
Learning about other people
Take time in new situations to help your baby adjust to new people. Some babies like to look at people for a while before they are held by them.
If you are planning for a new person to take care of your baby, spend some time helping your baby to get comfortable with the new person. You could visit the new person with your baby for an hour or more before you leave. The first times you leave your baby with a new person, come back after an hour or two, so that your baby begins to understand that you go away and come back.
LANGUAGE DEVELOPMENT & LITERACY
BIRTH TO 8 MONTHS
How are children learning language?
Overview
Children are born ready to communicate and to learn language. Listening to the language of their families, children soon start to distinguish familiar sounds and to build a vocabulary of words they understand, even before they can speak. Children's ability to understand language is called "receptive language."
At first, young babies communicate through making sounds, e.g., crying, and through making gestures. As they approach toddlerhood, they begin to use a few familiar words and, by 4 and 5 years old, they have large vocabularies and follow the rules of grammar when they communicate using language. Children's ability to use language to communicate their thoughts, ideas, and feelings is called "expressive language."
As children are learning about spoken language, they are also learning about written language–through books, signs, and notes. Before learning to read words, children learn that print represents words and before writing, they learn to make marks and draw pictures. By the time they turn 5 they understand that letters make words and that words can make stories that they will learn to read. Many 5 year olds can also read and write their own name.
Language Development & Literacy
Introduction
How does my child learn language?
In the first year babies learn so much about language and communication, even though they may only speak a few words on their first birthday. They are born interested and motivated to learn language and listen to all the words and other sounds in their environment, especially from the people they love.
They learn language naturally from you and the other people around them through the ways we talk to them from the minute they are born and in every interaction.
Even young babies and their family members have "conversations," where the baby coos or babbles and waits and the adult talks back to the child. Starting with these conversations, infants begin to learn how conversations go, enjoy the experience of being "listened to," and eagerly take in the words their families are saying to them.
Many families find that using some simple baby signs and gestures (i.e., "more," "water," "milk," "all done") offer their children a chance to communicate before they can say words.
Many of the things that you already do with your child help him or her learn to speak. Family members naturally talk about what is happening right now with children. This helps children to associate words with the things and experiences they are having.
Bilingual Language Development
How do children in bilingual or non-English-speaking families learn language?
Young children are very skilled at learning language and have the ability to learn two or more languages even before they begin school.
Families who speak a language other than English at home can use their home language as their primary language with children. Learning their home language helps children feel connected to their family and culture. They can learn English at the same time if the family is bilingual or they can learn English when they begin childcare or school.
Families support language learning by talking, reading and singing to their children in their home language. In this way children learn many language skills that will help them when they begin learning English.
Check with your local library for books in your home language.
Children who have this opportunity to become bilingual at an early age will benefit from the use of both languages throughout their lives.
Receptive Language
What is my child understanding?
"Receptive language" refers to all the words that children hear and understand, even before they can speak the words themselves. Children understand more words than they can speak.
Listening to what you say to them helps them learn words. When you say something and wait, they begin to understand how communication works.
Children listen to words that are spoken directly to them as well as to conversations that are happening around them.
They also pay attention to the tone of language and at this age begin to understand the meaning of tone as well as words. For instance, they can notice when your tone is excited, loving, frustrated, or scared and will eventually learn how to use tone in their own conversations.
Expressive Language
Communication: Talking and reading
"Expressive language" includes all the sounds and words that a child makes.
Infants use crying, sounds, and gestures to communicate their feelings, needs and ideas.
Gestures include things like waving for "bye-bye," both arms up for "pick me up," and shaking head from side to side to resist eating a certain food.
Children practice many different sounds for a long time before they actually make words. They often string sounds together, like "ba-ba-ba" or "da-da-da," and enjoy when people repeat those sounds back to them.
At first they just practice different sounds, enjoying how the sounds feel in their mouth, but in a few months, their sounds will start to have meaning. For example, "m-m-m-m-m" will be used more when asking for mama.
When they start saying words, sometimes they just say a part of the word, like the beginning or the end of it, or they might make sounds that sound like the rhythm of the word.
Even when children don't say it right when they first start talking, they keep practicing until their words sound like yours.
Infants take turns in conversation with family members. When the other person stops talking, the infant will babble back.
Babies are interested in books. They enjoy spending time with you looking at and reading a book. They watch you when you read and follow the pictures with their eyes.
Babies pick books up as soon as they can and try to open them, chew on them or turn the pages. They soon begin to smile and point and show preference for certain books.
Here are some tips to support your child's language development and interest in reading:
Tell your child what you are going to do.

Your child is more able to learn language when it is related to something she is experiencing.

"I'm going to pick you up."
"Here is your shirt. Let's put it over your head."
"Here is a bite of carrots for you to eat."

When your child shows interest in something, offer words to describe what they are interested in. Your child is more interested in words that describe their interests.

"Did you just hear the dog bark?"
"You are touching the cat. He is so soft and furry."
"You are waving to daddy. Are you saying 'bye-bye'?"
"You are reaching for my water. Are you thirsty?"

Talk about what your child is doing. This is like "show and tell." At the same time your child is experiencing something, they are learning words to talk about it.

"You just crawled all the way to the door!"
"When you touched that ball, it rolled away."
"You picked up that bean and put it in your mouth."

Talk about what you are doing. This is like "show and tell." At the same time your child is seeing something, they are learning words to talk about it.

"I'm looking for my shoes."
"I'm getting your peas and bib ready so you can eat."
"I'm checking to see if you need a diaper change."

Use many descriptive words. This is a way that your child builds vocabulary.

"Your favorite blanket is green and blue and fuzzy all over."
"Here are your pinto beans. I mashed them so they would be soft for you."

Talk about the near future. This gives children a chance to make a mental picture about what is going to happen before it happens.

"Soon it will be time for your bottle."
"I'm getting the water ready so you can have a bath."
"After we finish changing your diaper, we can read a book."

Talk about the recent past. This offers children a chance to develop a mental picture—a memory of what has happened.

"We were singing and clapping in the car today."
"You ate so many pears for lunch today."
"We said good-bye to mama. She went to work."

Provide your baby with books.

If you offer books to your baby, he learns that you value books and he will learn to appreciate them.

Having books within your baby's reach lets them choose to look at them whenever they are interested.
Using small board books with young babies allows them to participate in turning the pages more easily.

Read books to your baby. This is your baby's first experience "reading" and the beginning step to him understanding that books hold stories, words, and information for him.

Even before your baby can sit up, you can lie down next to him and hold the book up so you can both see it.
Read slowly so that your baby will have a chance to listen to your words and examine the pictures.
This early experience with books can start a lifetime love of reading for our children.

You can make simple books for your baby using photos of people and things she loves. These books help her see that books can represent things that she knows about.

You can glue photos on paper, write words for your story, and staple, tie or tape the pages together.
Stories don't have to be long. They can just be a few pages. "Julia likes to eat. She eats with her fingers and with the spoon. She likes to eat rice, bananas and chicken."

Talk about pictures and books with your child. Learning that pictures represent things is the first step to learning that letters can also represent things.

"I see stars in the sky. Do you see the stars?"
"I see lots of fish. What do you see?" (When your child points, you can name what they noticed.)
"Here is a photo of your abuelita and your tia."
NUMBER SENSE
BIRTH TO 8 MONTHS
How are children learning about numbers?
Overview
Young children explore and begin to practice the skills needed for mathematics long before they enter elementary school. During the first years of life, children learn to count, recognize shapes and patterns, compare sizes and amounts, and recognize similarities and differences. Children develop these skills through their self-initiated exploration and play with materials and through simple interactions with adults. Everyday interactions such as adults counting fingers and toes, offering two pieces of banana, and arranging blue and white socks in different piles contribute to children's growing math skills. Children begin to communicate about amounts of things by using words such as "more" and "bigger."
As they grow older they learn to count a few numbers. They also build their understanding of quantity through activities such as putting plates and cups on a table. They become aware of how adults use counting in everyday life and learn about how to use numbers by imitating adults. Throughout the early years, most children are naturally interested in numbers. Fun activities that involve numbers strengthen children's natural interest and encourage them to learn more about math concepts.
Number Sense
Introduction
What are babies learning about numbers?
Young children begin to practice the skills needed for arithmetic and math long before they enter elementary school. Most of these skills are developed through their self-initiated play with materials and through simple interactions with adults.
Young infants are developing early ideas about numbers, even before they can talk. They begin by focusing on one thing at a time. They will reach for a toy you hold out to them. In a room full of people an infant will watch just her dad as he walks toward her.
Infants are introduced to counting skills through everyday interactions, such as parents counting their fingers and toes, or getting two kisses, one on each cheek.
As babies approach 8 months of age, when they hold two toys in each hand and you offer a third toy, they may drop one of the toys they are holding so that they can hold onto the new object. This shows a beginning understanding of what "two" is.
Tips for families to help children in understanding numbers:
Many of the things that families do naturally with children help them to develop their math and number skills. There are many opportunities in our everyday lives where adults are counting things and children are practicing numbers in their play. Here are some suggestions of things families can do:
When you hold up one finger for your baby to grab, you can say, "You are holding my finger." When you hold up two fingers for him to grab, you can say, "Here are two fingers." There are many opportunities like this where you can use simple numbers as you talk to your baby.

Infants learn through their hands-on experiences. When they grab your finger, they begin to build an idea of number.

You can point to your nose and then point to your baby's nose: "Here is my nose and here is your nose." This begins to introduce the concept of one-to-one correspondence. "One person/one nose. Each person has a nose."
When we nurse or feed babies, we naturally talk about quantity. "You stopped sucking. Are you full or do you want more milk?"
When he crawls over to pick up a ball in one hand and then picks up a ball in the other hand, you can say, "You found a ball! Now you have two balls, one in each hand!"
When the garbage truck drives up and your baby points, you might explain, "You see the garbage truck. It is a big truck." There are many chances to talk about the size of things in your baby's environment.

When we offer children new words and ideas about things they are interested in, they are especially attentive.
PHYSICAL DEVELOPMENT
BIRTH TO 8 MONTHS
How are children becoming skillful at moving their bodies?
Overview
Physical development and physical activity play an important role in health throughout a child's life span. In particular, being physically active protects against heart disease, diabetes, and obesity. It also contributes to mental health, happiness and psychological well-being.
Physical movement skills are a basis for other types of learning and allow opportunities for children to engage with others, to explore, to learn, and to play.
Physical activity prepares children for activities in later life, including fitness activities, organized sports, and recreation.
Infants, toddlers and preschool children are developmentally ready and very motivated to learn new movement skills. The preschool period is an opportune time for young children to learn fundamental movement skills. If children do not learn those skills during the preschool period, they may have difficulty learning them later, and their ability to participate in physical activities may be affected for the long term.
During the preschool years, children develop important movement skills. Those skills build on the physical development that happened for children in infancy and toddlerhood.
We now know how much children learn through physical activity outdoors in the natural world. It is important for adults to help children have opportunities for this kind of play, as many children spend a majority of their time in front of a television or computer screen instead of engaged in physical activity.
The more experience children have with physical activities, the more confidence they develop and the more willing they are to try new things and develop new skills. Children who spend a lot of time in front of the television or the computer may be less willing to try new physical challenges and may miss the chance to develop important physical skills.
Research highlights the benefits of experiencing nature for children and shows that children prefer spending time in natural settings. Further, we also know that access to green, outdoor spaces improves children's thinking skills and their well-being and relationships.
Physical Development
Introduction
Physical development for infants and toddlers includes learning skills such as rolling over, sitting up, crawling, walking, and running. Through these abilities, children are able to see and interact with their surroundings in different ways. Children's physical development is related to their growth in all other areas. When a child pulls up to a standing position he can see the top of the table, and new opportunities for exploration of the magazines and cups on the table open up. When an infant begins to push a stroller, he learns about new ideas like motion. When he pushes the stroller over to another friend, who puts a baby in the stroller, he expands her social skills, as well.
An infant's growing ability to control her body movements develops rapidly in the first 8 months of life. By 8 months, some infants are beginning to move from one place to another—through rolling, full-body crawling along the ground, or crawling on all fours. Many are sitting up, and some have begun to pull to a standing position. In the first 8 months, infants also develop the ability to use their hands to hold onto objects and to move those objects in different ways. All of these abilities help an infant to interact with the world in more and more interesting ways.
In the months leading up to 8 months you may see an infant:
Laying on his back and playing with his foot.
Rolling from his back to his front.
Using both hands to hold something in front of him while laying on his back.
Rolling from front to back.
Getting up on hands and knees and rocking back and forth.
Moving from hands and knees into a sitting position.
Sitting up on his own and turning to the side to look at something or pick something up.
Some typical things you might see an 8-month-old doing include:
Sitting up on her own without support or assistance.
Moving from a sitting position forward to her hands and knees.
Pulling herself forward using her arms, while lying on her tummy.
Tips for families to support infant physical development:
Infants need plenty of time to move freely. You can place her on a blanket on her back on the floor in a safe place. This gives your baby a chance to practice moving hands, arms, feet and legs. It builds core strength and gives your baby an opportunity to get to know her body.
You can lay beside your baby so that he can see your face and you can observe the way he moves.
From this position, your baby will strengthen all the muscles she needs to learn to turn over.
Reminder: Never leave a baby unattended on a high surface like a bed. She may turn over—even if you haven't seen her do it before—and fall off the bed.
When he starts reaching for things, you can place a few simple toys within his reach.
It will take a while for him to get good at grasping things, but practice will build his skills.
Even non-mobile babies enjoy time outside. You can put a blanket on the grass or another surface at the park, where your infant can lay and experience the sounds of birds, the wind moving the leaves and the feel of the fresh air.
When she begins to move about through rolling or pulling forward with her arms, you can clear a bigger space for her to move. At this stage, you can put interesting toys slightly beyond her reach so that she will have the satisfaction of getting to them.
Look around the floor carefully to be sure that everything she can reach and pick up is safe for her to explore and put in her mouth.
When your baby starts to crawl, it is important to create an even larger safe space for him to explore. Even without a lot of space, you can put interesting things in the space for him to explore, like clean lids, cotton scarves, chewy toys, and different kinds of containers and cooking pots.

Placing a few simple toys within your baby's reach gives your baby a chance to practice grasping things and build skills.

Your infant is naturally motivated to learn new skills and will likely progress from one skill to the next without being "taught" how to do the next thing. She doesn't need fancy equipment like bouncers or walkers to help them develop, and sometimes those pieces of equipment can actually hinder his development.

Your baby naturally learns and practices new physical skills. Being free to move in a safe place is usually all your baby needs to keep making progress.
APPROACHES TO LEARNING
BIRTH TO 8 MONTHS
What skills help children learn?
Overview
Young children develop many skills that help them learn and solve problems. These skills include the ability to pay attention, even when there are distractions, to observe, to ask questions, to gather information and to explore different ways to solve problems. These skills are called approaches to learning.
Young children learn to use math concepts such as number, shape, and size when solving problems. They use all of their senses to gather information, notice differences and similarities, and often make comparisons. They carefully observe people and things and form hypotheses and make predictions based on their observations. They also do simple experiments and evaluate the outcomes of their experiments.
Young children are naturally curious. Adults can encourage children's curiosity and initiative by asking children open-ended questions, being responsive to their questions, and providing a wide variety of materials for them to explore. Such support strengthens children's growing confidence as learners and willingness to keep trying to solve challenging problems.
Approaches to Learning
Introduction
What skills do infants and toddlers use to solve problems?
One important problem-solving skill that infants and toddlers develop is the ability to pay attention to things they find interesting, even when there are distractions. For example, young infants can make eye contact with their family members even while there is music playing. Older toddlers can continue to stack a few blocks even when someone nearby is folding the laundry. This ability to concentrate on something helps them observe, gather information, build on their learning experiences and find solutions to problems.
Infants can pay attention to things and people around them.
They can play with one toy for a few minutes before focusing on a different toy.
Infants can focus on a toy that is out of reach and repeatedly reach for it.
They show interest in looking at colorful board books for a few minutes.
They watch other children play.
Infants can put things into a container, dump them out and fill the container again.
Infants may stop moving their arms and legs for a moment when an adult comes over to talk to them.
In the months leading up to 8 months:
Infants can remain calm and focused on people, toys and sounds for a minute or so.
Infants will explore a toy by banging, putting it in their mouth or looking at it.
Tips for families in helping children focus their attention: